Important: We have identified an issue with the timer attached to items in the mailbox. The incorrect expiration time is being displayed. Please note that the correct expiration time can be seen in the REWARDS tab of the stash.
Your Inventory

Catalysts
Catalysts in your inventory are organized by tier and class. Each tier and class has a specific catalyst and catalyst fragment capacity that increases after reaching specific Summoner levels.
Once you reach the maximum amount of catalyst fragments for a specific catalyst tier and class, a new full catalyst will be automatically created and added to the quantity.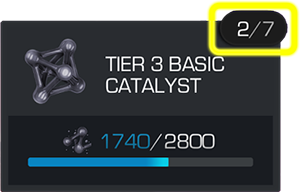 ISO-8
You will start with an inventory capacity of 15 spaces at level 1. Your inventory space will increase by one additional space with each account level that you gain until you reach level 31. The maximum capacity of your ISO-8 inventory is 45.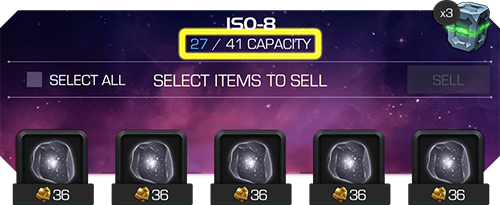 Items
Each item has an individual inventory capacity. Items earned in amounts that exceed the individual capacity of that item will be sent to your stash. Excess consumables can be sold from your inventory for Gold.
Your Stash
Your inventory has a limited amount of space for each item within it. Any catalysts, ISO-8, or items that cannot be stored in your inventory will be delivered to your overflow stash.
Get there by tapping on the stash icon on the main page (depicted below).

Your stash will store items only temporarily. As the timers for each item get close to zero, you may want to sell them before they expire. By selling the items, you can gain fragments or Gold depending on which items you sell.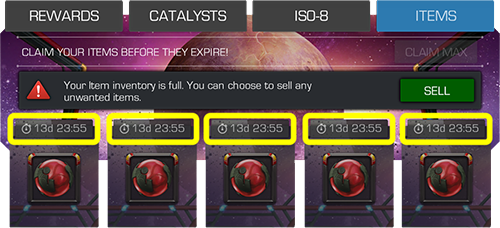 Note: Should you reach the maximum number of catalysts within a specific tier and class in your inventory and have enough fragments to create a new catalyst, the new full catalyst will be automatically added to your stash.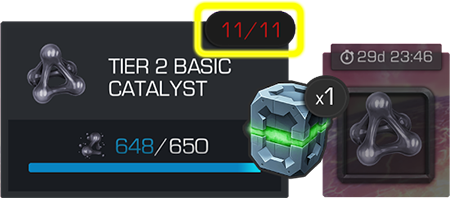 Important:
Items may be delayed when being delivered to your stash, and they may not immediately appear.

If you have reached the maximum capacity of an item in your inventory, you will need to sell or use the items in your inventory before you can claim more of the items from your stash.

If an item expires before you are able to claim or sell it, it will be removed permanently from your stash.

Each inventory is independent of the other inventories. For example, clearing space in your ISO-8 or items inventories will not allow you to claim more catalysts. If the maximum capacity of catalysts has been reached, you must clear space in your catalyst inventory before you can claim more of them from your stash. Some items may be saved for longer periods of time than others. Make sure that you check your stash regularly to avoid losing items!