If an arena has finished and you have not received your rewards yet, there might have been a delay in getting those rewards out to you. It can take at least one hour for the leaderboards to be correctly updated and the rewards to be distributed.
It is also important to note that there are two types of rewards, milestone rewards and rank rewards.
If you forgot to claim your milestone rewards before the event was over, you will be able to claim them in the COMPLETED ARENAS tab or your stash. However, there might be a delay of at least one hour for the items to be available after the event has finished.
Rank Rewards
After the countdown for the arena reaches zero, the system updates the leaderboards and distributes the rewards to the qualifying players. This process takes at least one hour or more, depending on the number of players who reached the minimum amount of points to qualify for rank rewards. Once the rewards have been distributed, you will receive an in-game message. You can also claim the rewards in the COMPLETED ARENAS tab or your stash.
Why Did I Not Place in the Arena?
Rank rewards will be unlocked after you reach a specific amount of points. Once the requirements are met, you will automatically qualify for the lowest percentage of prizes. If you do not unlock rank rewards, you will not place in the arena.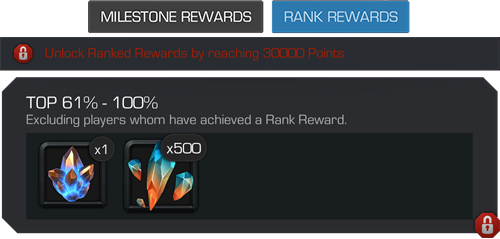 You may access information regarding how many points are required for claiming milestone and rank rewards by tapping the VIEW REWARDS button located on the front page of any arena.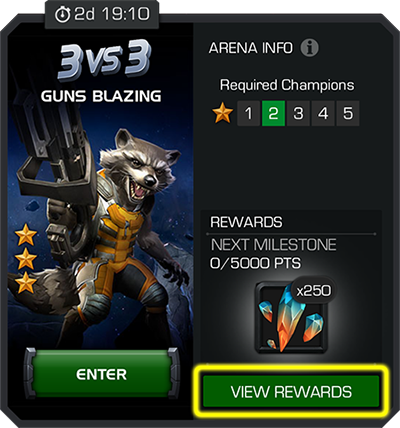 I Only Got the Lowest Percentage of Rewards
Rank rewards are given to players based on their performance relative to other players in the arena. The points earned from the beginning to the end of the arena will be recorded by our system and compared to other competitors in order to determine your placement. The player with the most points will be ranked first, and players with descending amounts of points earned will be ranked accordingly.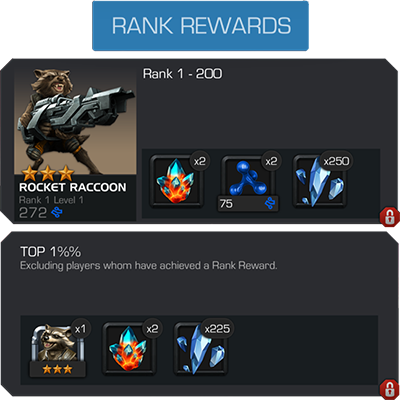 How Do I Improve My Chances Next Time?
To maximize your chances of getting better arena rewards, you need to make sure that you win as many battles as possible to boost your score as much as you can.
This means that you will need more than one team of Champions and that you will have to create the right strategy. Make sure that you organize your time correctly. Remember to take the following items into consideration:
Mastery points

Champion type (offensive/defensive)

Synergy

Normal and signature abilities

Active Champion and arena point boosts

Stamina and recharge cooldown
Make sure that you join an active alliance to help speed up the recharge of your stamina.