Important: The blackout period will not be waived prematurely. Kabam Support will be unable to adjust this time in any way. Once the appropriate time frame is over, you can claim rewards from future events.
Alliance Blackout Period
There is a prize blackout period associated with alliance events and the delivery of the rewards. During this blackout period, alliance members will not receive rank rewards to prevent the exploitation of alliance hopping. This blackout impacts every player joining a new alliance, regardless of any pre-existing membership.
Note: Players who are kicked from their alliances by an officer will be impacted by the blackout period in the same manner as a player who leaves on their own accord.
During this period, new members will be unable to collect rank or peak milestone rewards. But Normal milestone rewards are not impacted by the blackout.
Events Affected by the Blackout Period:
| | |
| --- | --- |
| EVENT | LENGTH OF BLACKOUT |
| Alliance Quest | 5 days |
| Alliance Quest Completion | 3 days |
| 3-Day Item Use | 12 hours |
| 3-Day Arena Wins | 12 hours |
| 3-Day Quest Completion | 12 hours |
| 1-Day Arena Perfect Series | 12 hours |
| 1-Day Quest Completion | Minimum 2 hours |
| 1-Day Item Use | Minimum 2 hours |
| 1-Day Class Specialist | Minimum 2 hours |
| Summoner Advancement | 1 day |
These are the general alliance events impacted, however, version-specific events may also be impacted by blackout periods. Those events will have individual blackout periods which will be communicated by in-game event messaging or on the forums.
All blackout periods start at the time of joining the alliance. However, if you join the alliance while an event is in progress, you will still be eligible for rewards so long as the blackout period's duration is shorter than the remaining time in the event.
Types of Event Rewards
There are up to three types of rewards that can be earned from an alliance event: milestone rewards, peak milestone rewards, and rank rewards.
Milestone rewards track the alliance's progress in an event. You can claim milestone rewards as soon as the required point total is reached. Most events have milestone rewards that are based on the alliance's total contributions, but some events also have minimum requirements for individual contributions. Milestone rewards earned before a player joins an alliance will be unavailable to that player.
Peak milestone rewards are similar to regular milestone rewards in that they track the alliance's progress in an event. However, they are paid out after the event ends and only award the highest-tiered reward earned, similar to ranked rewards.
Rank rewards are determined by the alliance's overall performance and placement in an event. Once the final ranks have been determined, all eligible alliance members* will receive an in-game message in their inbox. This message will indicate the alliance's overall rank in the event and contain the associated rank rewards.
*General eligibility for rank rewards:
The alliance member participated in the event.

The alliance member is not in a blackout period.

The account was not suspended or disbanded at the time of payout.

The alliance member remained in the alliance through the payout period.
Missing Event Rewards
If you were not affected by the blackout period and are still missing rewards, please contact Kabam Support and provide as much of the following information as possible:
Event in question

Alliance name

Rank you achieved

Rewards that you are missing
Kabam Support will investigate to determine how we can assist.
How Do Alliance Events Work?
You can participate in alliance events with your alliance to earn rewards! To participate, work together with your alliance to complete the required tasks and accumulate points. As you reach new milestones, you will earn rewards and improve your chances of getting special alliance rewards.
You can find Alliance events by tapping the event icon on the bottom-right corner of the home page:

The progress bars for each event will fill as you fulfill its requirements.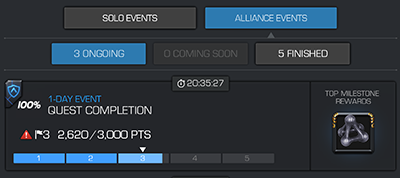 When you tap on an event, you will see more details about it, including how to get points. The HOW TO GET POINTS section of this pop up details the exact actions you need to take to receive points towards the event. Check the rules, rewards, and other active events to help your alliance succeed!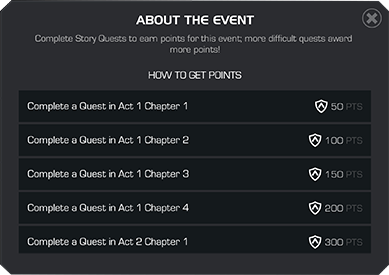 Some alliance events require you to participate to unlock rewards. These events will display a warning message, alerting you that you must contribute points to the event to be eligible for rewards.
If you are a current member of the alliance when a milestone reward is achieved, you can claim it even if you did not participate earlier by participating in the event then. However, if you join the alliance after the milestone rewards have been achieved, then you will not be able to claim them.